Post by Gabriel Ohio on Jul 1, 2021 12:22:40 GMT -6
HANDLER:
Your Real Name: Haas
How Did You Find Us?:
…
WRESTLER
Wrestler Name: Gabriel Ohio
Height: 6'9"
Weight: 286 pounds
Hometown: Parts Unknown
Fighting Style: Hybrid Powerhouse &
Technical
Pic Base: Wes Bentley
Manager: N/A
Manager's Pic Base: N/A
Entrance Music: Yhorm By Dark Souls
Entrance Description:
Yhorm by Dark Souls plays and the lights slowly start to flicker. The tron lights up with a dark figure walking up some stairs.
It opens a door and the tron blacks out and the music stops.
A voice is heard.
"Carpe Noctum!!"
A Slowed down, more Hard rock version of the theme tune plays.
The announcer escapes with a hasty retreat out the ring.
The top of the ramp is filled with smoke and a 'Moonlight Style' spotlight appears shortly after. A face is zoomed in upon, cocked to the side.
The light goes out, few seconds later it appears again a bit down the ramp. Ohio stares, but he doesn't move. The light goes out. Shortly after the light comes back on and the face of Ohio is pressed against the camera lens, the burn scars on his face there for all to see.
He laughs a maniacal laugh before progressing into the ring at a slow manic pace. He stands centre of the ring as it starts to rain on the ramp way and stage.
Short Bio:
Gabriel is not your typical human being. His size? His pale complexion? Just some of the attributes that are a bit of a hint. Not much is known about the past of Gabriel Ohio. He is shrouded by an aura of mystique and with the lure of curiosity. Gabriel is vicious, cold and calculating. He prides in pain. He is an enigma. A man of many words and his actions back them up. He does not attract a fandom but more of a cult following. For this reason he is more heel than anything else but with the occasional cheers.
Ohio's life took a darker path when Saoirse Maguire destroyed Ohio with Acid amongst other things, but little did she know she was not ending the nightmare she was only allowing it to take its place.
Ohio returned after stalking Psycho's family, Ohio became sinister, his split personality revealed, going by the name
Trauma Gabriel Ohio.
Although with the assistance of Samantha Hamilton, that dark side was subdued again but the scars mark the Titaness forever. Now The old Gabriel is in control, but that does not make him less of a threat.
Common Moves:
1. Running Big Boot
2. Choke Slam into a Back Breaker
3. High Angle German Suplex
4. Tiger Driver
5. Fall Away Slam
6. T-Bone Suplex
7. Top Rope T-Bone Suplex
8. Oran-age
9. Gorilla Press Spine buster
10. Ghost Driver
Signature Moves:
1. Día de Muertos:
When opponent is running off the ropes at max momentum, Gabriel nails an Irish Curse Back breaker, then while over his knee, hits a Sister Abigail.
2. Bloody Mary:
Tajiri's/Asukas Green Mist, except it is red.

3. The Kiss of The Cerberus:
Double Power Bomb then Lifting up for a third and hitting a third over the knee
Finishing Moves:
1. Fall From Grace: (Steiner Screwdriver. Ohio Will use this off a Ladder or Top rope etc if needed)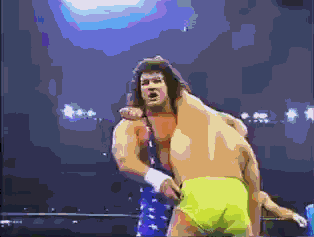 2: Soul Reaper: (Step Over Toehold Full Nelson)